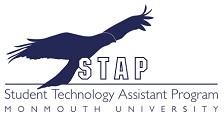 Cleaning Your Computer in 7 Easy Steps
We recommend printing these instructions, so that you can have them handy during the cleanup process and also for future reference. A printer-friendly version of these instructions are available here.
Cleaning your computer involves 7 tasks. They are:
Running McAfee Stinger

Running Spybot

Running Ad-Aware

Clearing your temporary internet files

Updating Windows

Updating your antivirus

Performing a full scan with your antivirus program
These steps will help you clean your system of viruses and/or spyware, as well as assist in preventing problems in the future. Please ensure that all steps are completed. If you skip any of these tasks, your computer will not be fixed.
The Student Help Desk will be available to assist you with any of these steps, either by phone or in person (by appointment). The Student Help Desk can be reached at Ext. 3490 or from off-campus at (732) 571-3490.
Note: Scanning files can be a very time-consuming process. It may take a while, but do not stop the program. It's best to find something to do that doesn't involve a computer like reading a book or cleaning your dorm room.
Note: If your computer gives you a message that your system will reboot in 60 seconds, download this file to your desktop and double-click stopshutdown.exe to end the shutdown process.
Please follow the steps below:
1.) Download these files to your computer. You will be asked what to do with these files. You can save them to your desktop:
3.) Run McAfee Stinger (click here for instructions)
4.) Install and Run Spybot Search and Destroy (click here for instructions)
5.) Install and Run Ad-Aware (click here for instructions)
6.) Cleaning your Temporary Internet Files (click here for instructions)
7.) Plug your Ethernet cable back into the wall.
8.) If you cannot access the internet, call the Help Desk (Ext. 3539) and request that your port be opened. You will be able to access the internet to complete the remaining steps. Be sure to have the following IP Address ready for them:
9.) Make sure Automatic Updates are set on Windows and update if needed. (click here for instructions)
10.) Make sure your AntiVirus program is set to automatically update. It is very important that your antivirus program has the most recent updates. Once updated, perform a full system scan.
Norton Antivirus users: click here for instructions.
Mcafee Antivirus users: click here for instructions.
AVG users: click here for instructions.
Once a month (or more often if you'd like), you should perform these tasks. The more you do these tasks, the faster it will take to complete. You will also notice that your system is running faster and more smoothly. When your computer is happy, you'll be much happier.