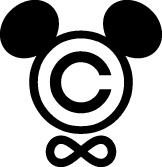 Copyright
Copyright protects literary works, sound recordings, works of art, musical compositions, computer programs and architectural works, provided that the work satisfies certain requirements.
The work must be
original
fixed in any tangible medium of expression

Here are some resources:
Image right: Copyright: ©2005-2006, David John Goodger - License: Creative Commons Attribution-NonCommercial-ShareAlike.
---
Alternative Frameworks
---
Fair Use
A comic book on this topic is avialable from Duke Law
Copyright law contains an exemption called fair use, which allows you to use (parts of) copyrighted works:
§ 107 . Limitations on exclusive rights: Fair use
Notwithstanding the provisions of sections 106 and 106A, the fair use of a copyrighted work, including such use by reproduction in copies or phonorecords or by any other means specified by that section, for purposes such as criticism, comment, news reporting, teaching (including multiple copies for classroom use), scholarship, or research, is not an infringement of copyright. In determining whether the use made of a work in any particular case is a fair use the factors to be considered shall include—

the purpose and character of the use, including whether such use is of a commercial nature or is for nonprofit educational purposes;
the nature of the copyrighted work;
the amount and substantiality of the portion used in relation to the copyrighted work as a whole; and
the effect of the use upon the potential market for or value of the copyrighted work.

The fact that a work is unpublished shall not itself bar a finding of fair use if such finding is made upon consideration of all the above factors.
---
Do Trademarks, Copyrights, and Patents Protect the Same Things?
No. Trademarks, copyrights, and patents protect different types of intellectual property.
A trademark typically protects brand names and logos used on goods and services.
Copyright protects an original artistic or literary work.
A patent protects an invention.
For example, if you invent a new kind of vacuum cleaner, you would apply for a patent to protect the invention itself.You would apply to register a trademark to protect the brand name of the vacuum cleaner. And you might register a copyright for the TV commercial that you use to market the product.
(Source: Basic Facts about Trademarks from the U.S. Patent and Trademark Office)
---
Disclaimer
I am not a lawyer. This information is given for educational purposes only. It may not work for your specific situation. It is not legal advice, and I am not your lawyer.
If you have a legal issue you need resolved, you have to find your own local lawyer to get legal advice and help with your problem. If for legal facts you rely on the information included on this page, there is no guarantee it will hold up in the court of law. Some of it may even be plain wrong, outdated, or not valid in a specific jurisdiction.
I am an artist and make stuff up. I do make a good faith effort when talking to students about copyright to have my statements be as truthful and correct as possible but the chances that I am mistaken of misinformed are not negligible. Don't whine if you base a legal decision on your good faith in me, and it backfires. Though appreciated, such good faith may be misplaced. I am just an assistant professor in art. I am not a lawyer, attorney or bannister. Not even a registered counselor. So there.
---