<![if !vml]>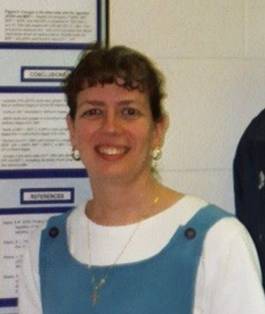 <![endif]>Dr. Dorothy Hutter
Assistant Professor, Biology Department
Edison Science Hall 147B
(732)263-5546
Current Office Hours:
Wednesday/Thursday 11:30 – 1:30 pm
FYE (Freshmen only): Monday 1 – 3 pm
Friday 11:30 – 1:30 pm
Background:
B.A., Biology, Immaculata College (1993)
Ph.D., The Catholic University of America (1998)
Post-doctoral research fellowship: The National Institutes of Health, National Institute on Aging (NIA), Laboratory of Cellular and Molecular Biology (1998 – 2000)
Teaching fellowship: Villanova University (2000 – 2002)
Research Project Summary:
Cellular proliferation is a stringently controlled process, regulated through the activity of extracellular signaling molecules which control the expression of genes that respond to promote or repress growth. Despite the growing understanding of the cell surface molecules involved in negative growth control, the mechanism for transducing these signals to the nucleus is still not clear. The overall hypothesis of this proposed work is that during the transition from an actively proliferating to a contact inhibited state, there are changes in the activation of mitogen-activated protein (MAP) kinases and/or the MAP kinase phosphatases (MKPs) which negatively regulate them. Further, these changes may promote the ability of normal fibroblasts to undergo the transition to a quiescent state, and/or influence the apoptosis of epithelial cells seen under contact inhibited culture conditions.
Previous results in our laboratory have shown that the level of active ERK is decreased upon contact inhibition in normal fibroblasts, and this decrease is correlated with an increase in the level of MAP kinase phosphatases (Wayne et al, 2006). Currently, we are extending this work to other MAP kinase families. Despite the understanding of the importance of MAP kinase activation in the stimulation of growth, little is known about the role of negative regulation by MKPs in growth control or apoptosis. The experiments proposed here will lead to new insights on the role of MAP kinase pathways in regulation of growth control and the response to cellular stress under conditions of low culture density versus a contact inhibited state.
Link to Publications
Link to Presentations
Professional Memberships:
The American Society for Cell Biology (ASCB)
The American Association for the Advancement of Science (AAAS)
National Association of Advisors for the Health Professions (NAAHP)
The Metropolitan Association of College and University Biologists (MACUB)
Courses Taught:
BY 101: Issues and Methods - Biology
BY 110: Principles of Biology
BY 323L: Microbiology Laboratory
BY 375L: Laboratory in Cellular and Molecular Biology
BY 410: Molecular Biology
BY 495: Senior Seminar
Current Research Students:
Emy Rothenberger (Class of 2009): Biology major


Michael Slisz (Class of 2009): Biology major

Ketleine Georges (Class of 2007): Biology major


Kris Jackson (Class of 2010):

Biology major


Lab Alumni:

Ken Briley, Jr., Biology/MCP; Chemistry/Biochemistry, Class of 2003
currently a graduate student at UMDNJ

Julie In, Biology/MCP, Class of 2004

currently a graduate student at Catholic University


Samantha Budinich, Biology; Class of 2004; currently a researcher at Merck

Stephanie Messick, Biology; Class of 2004

Joshua Wayne, Biology, Class of 2005
Currently employed at a biotech corporation


Ahmed Rizvi, Biology/MCP, Class of 2005

Currently a graduate student at Rutgers


Jennifer Sielski, Biology/MCP, Class of 2005

Currently a dental student at Penn

Lab Photos:
First Research Students, Summer 2002
Metropolitan Association of College/University Biologists (MACUB), 2004
The American Society for Cell Biology (ASCB) Meeting, Washington, DC 2004
Metropolitan Association of College/University Biologists (MACUB), 2005
Eastern Colleges Scientific Conference/Sigma Xi, 2005
Metropolitan Association of College/University Biologists (MACUB), 2006
(Research Grant Award)
School of Science, Technology, and Engineering (MU), 2006
TriBeta Regional Meeting, 2007 (1st Place Oral Presentation Award)
School of Science, Technology, and Engineering (MU), 2007